My garage:

Please find some pictures of my garage. Earlier, in this place was stored some hardware to renovate my house (paint, tools).

I have today many games from the 80s and some from the 90s. During the 80s, I was sometime playing with friends in a shop but I also plyed a lot alone in my student sleeping room. I will zoom here on some of these games "solitaire playable".

The International Team games:

My international team collection is almost complete. Globally, the big wargames box are fragile and as second-hand often damaged. The boardgames are in better shape.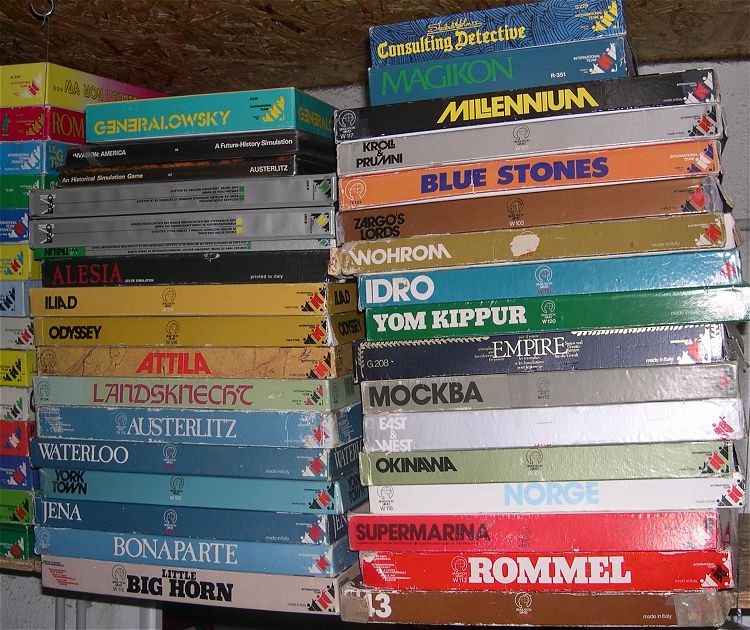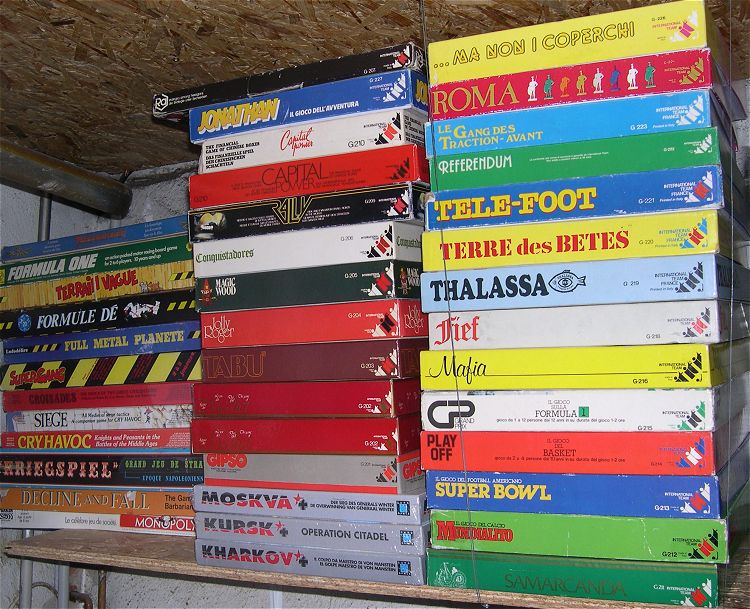 Avalon Hill, SPI, VG etc:

Here under, is half visible Panzer Leader under Panzer Blitz. It was one of my first wargames with scenarios on the D-Day. "Omaha Beach". It was easy for the US, because it was possible to use Naval Artillery. The historical reality was something else.

I enjoyed Source of the Nile: an unusual game. The map represents Africa, with white hexagones in the middle. The goal is to find the source of the nile by exploring the map. The player have to draw the terrain on each white hexagone explored, using colour pens. everything is erased in the end of the game.

Outdoor Survival is also unusual: the player is lost in a middle of a wild mountain area and have to survive. The game learns you to find water, to hunt, to fish. It's one of the Avalon Hill best seller, because the game was easily reused for Dungeons and Dragons campaigns.

I do not play a lot on computers except sometime with a freeware on Wizard's Quest. Such game is very fast on a computer. It was longer in the reality, because many orcs were automatically managed by a lot of dice throws. The PC game is on www.geocities.com/strandedtogether.







The International Team successors :

These French games are easy to find, even if Zargos and Fief 2 are expensive.

You can also see Ambush, the reference for solitaire game.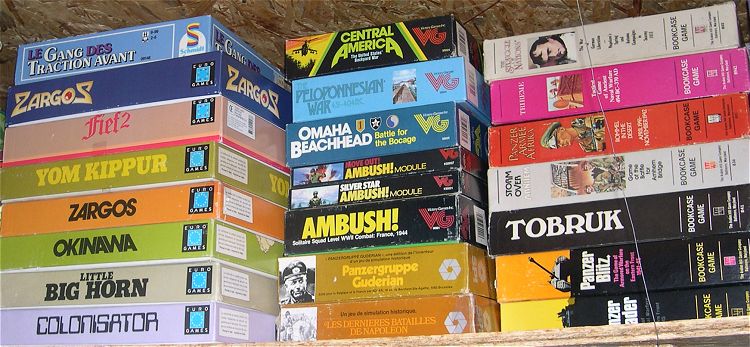 Azure Wish Editions and Oriflam:

Tank Leader, in French by Oriflam was important because it was the first of a series of wargames fully translated from good US games in the mid 80s.

The games from Azure Wish Edition and especially "Europa Universalis" were well known in the 90s for their historical thick rules and for their very long duration of play. Later, it was very easy to find these games during sales or as second hand for some euros only. I have a stock and I usually read the rules like a book, but I never played one of this game.








Squad Leader of course

Squad Leader was for me a revolution. I solo played several time the first scenarios. I discovered Stalingrad and a game where I can feel the combat ambiance and the military tactic. I later bought the extensions but I never played them. the rules were becoming to complex; so it was not funny anymore.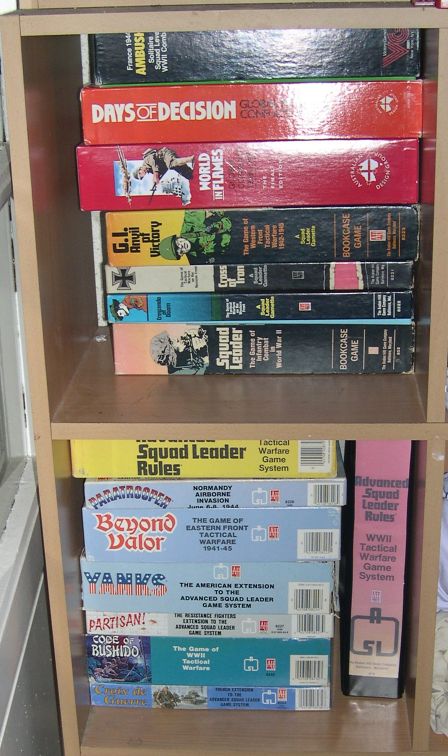 Some mini games from SPI

SPI was selling at a cheap price mini games easily playable as solitaire and in the middle of a Role Playing Game and a Wargame. Time Tripper where a soldier travels in time and fight against monsters and armies from the past and the future. Demons in which wizards have to conjure demons and human beings, have to fight against each other and have to find treasures. Citadel of blood and Deathmaze, solitaire role playing games where counters are used to rebuild a labyrinth. Last but not least, The Creature That Ate Sheboygan is a game where a mutant monster tries to destroy a city.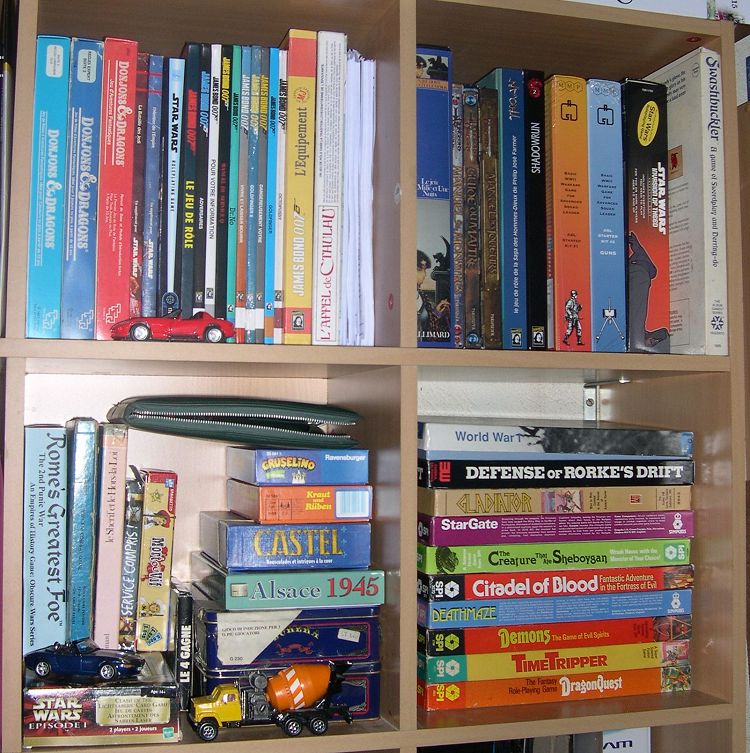 Jeux Descartes

Jeux Descartes / Eurogames survived to "International Team" but stopped his activity in 2004. I bought several games on their web site. Take a look to the following pictures, you will probably find a game you like with the logo Jeux Descartes / Eurogames. I miss Jeux Descartes

.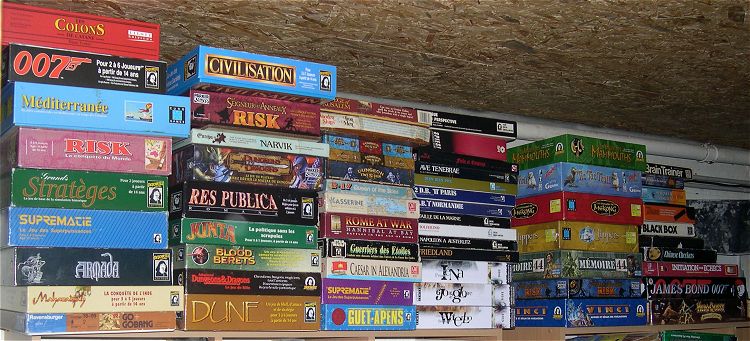 The big blue box under the puzzle is for a tool to cut tiles. My children, 9 and 11 years old, enjoy especially Carcassonne, Café international, Les aventuriers du rail.