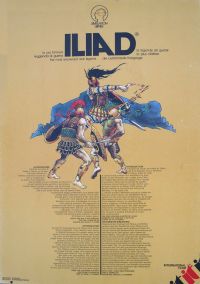 The game
Iliad is a game based on combats between Greek and Trojan heroes. It's not exactly a wargame because there is no army movement. Each counter represents one man and is named using the most famous heroes of the Iliad book.

The game is a series of duels during 4 days made of 10 hours. At some time, the gods' influence support one or the other player.



The illustration

The illustration is superb. it is signed (in the blue cape to the right). It's not easy to read - Enea78. This is the signature of Enea Riboldi.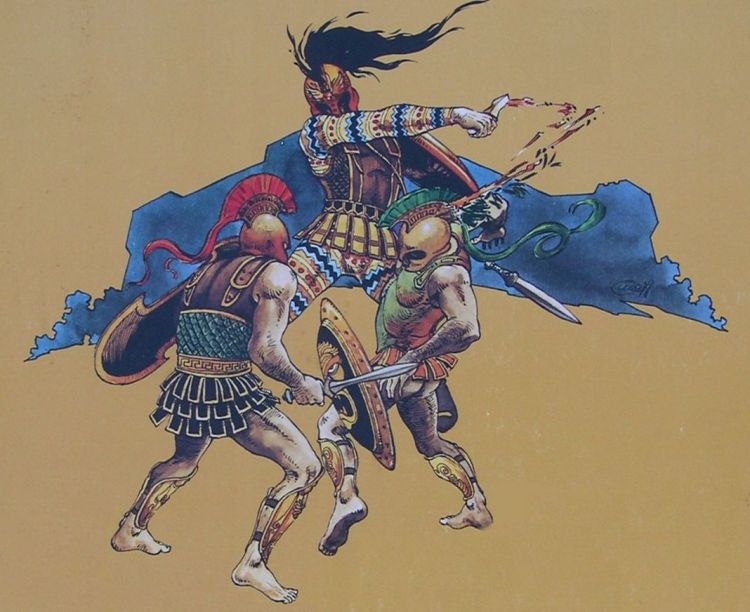 Opening of the box

The box contains: 2 calendars, the rules, the map, 28 Greek counters and 23 Trojan counters, a die. The box I have do not includes a tray for the counters.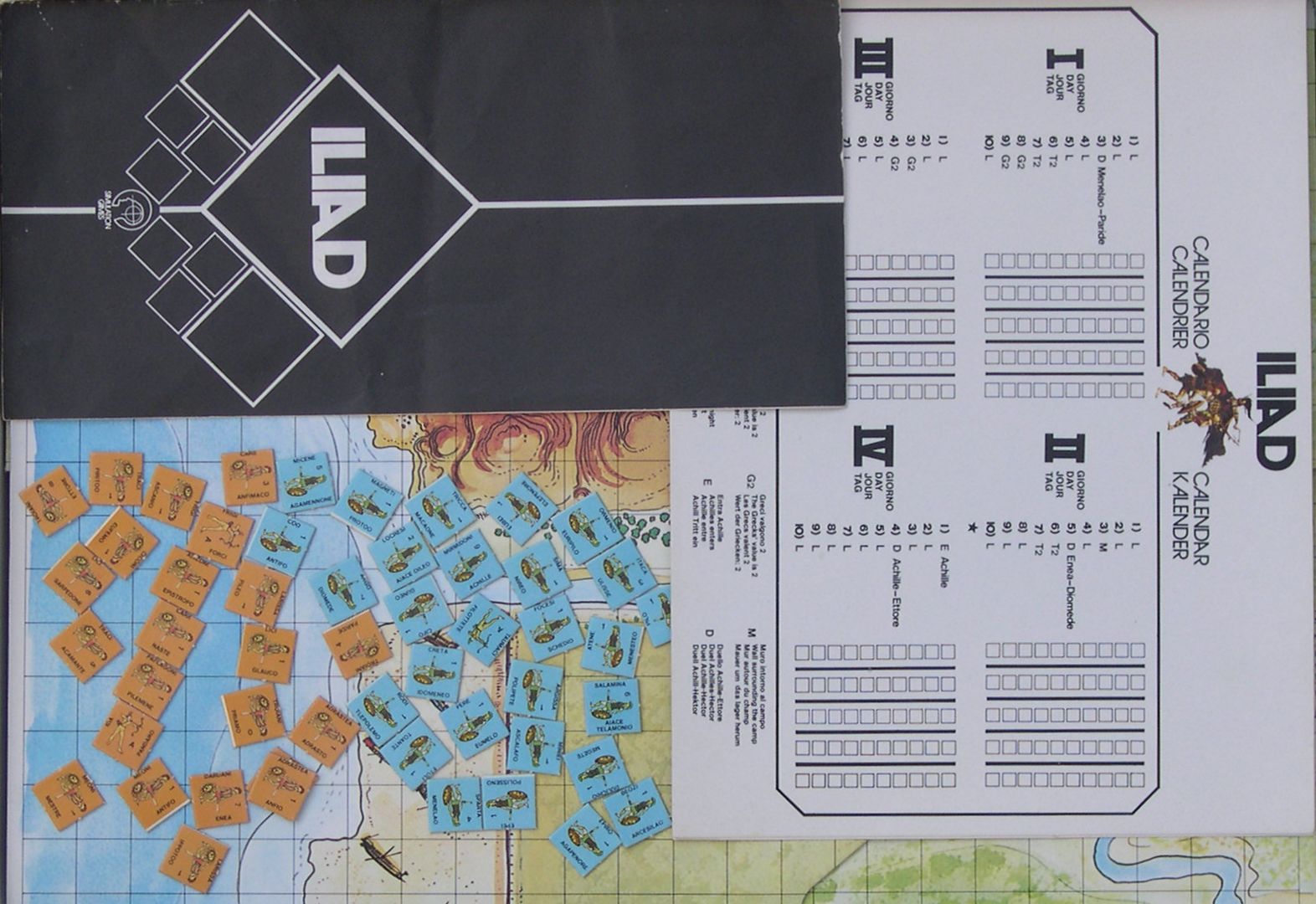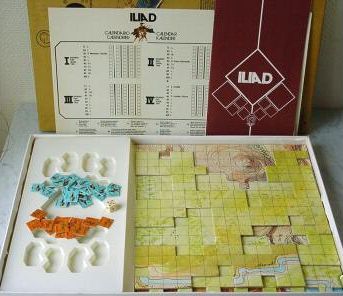 There is an older release of this game, with the map also cut into 5 puzzle parts, but following the squares. This game includes a tray.

This early release is also visible on boardgamegeek: The map et The page




The map

The map represents The plain of Troy. The Greek camp lies on a beach and is fortified by a wall.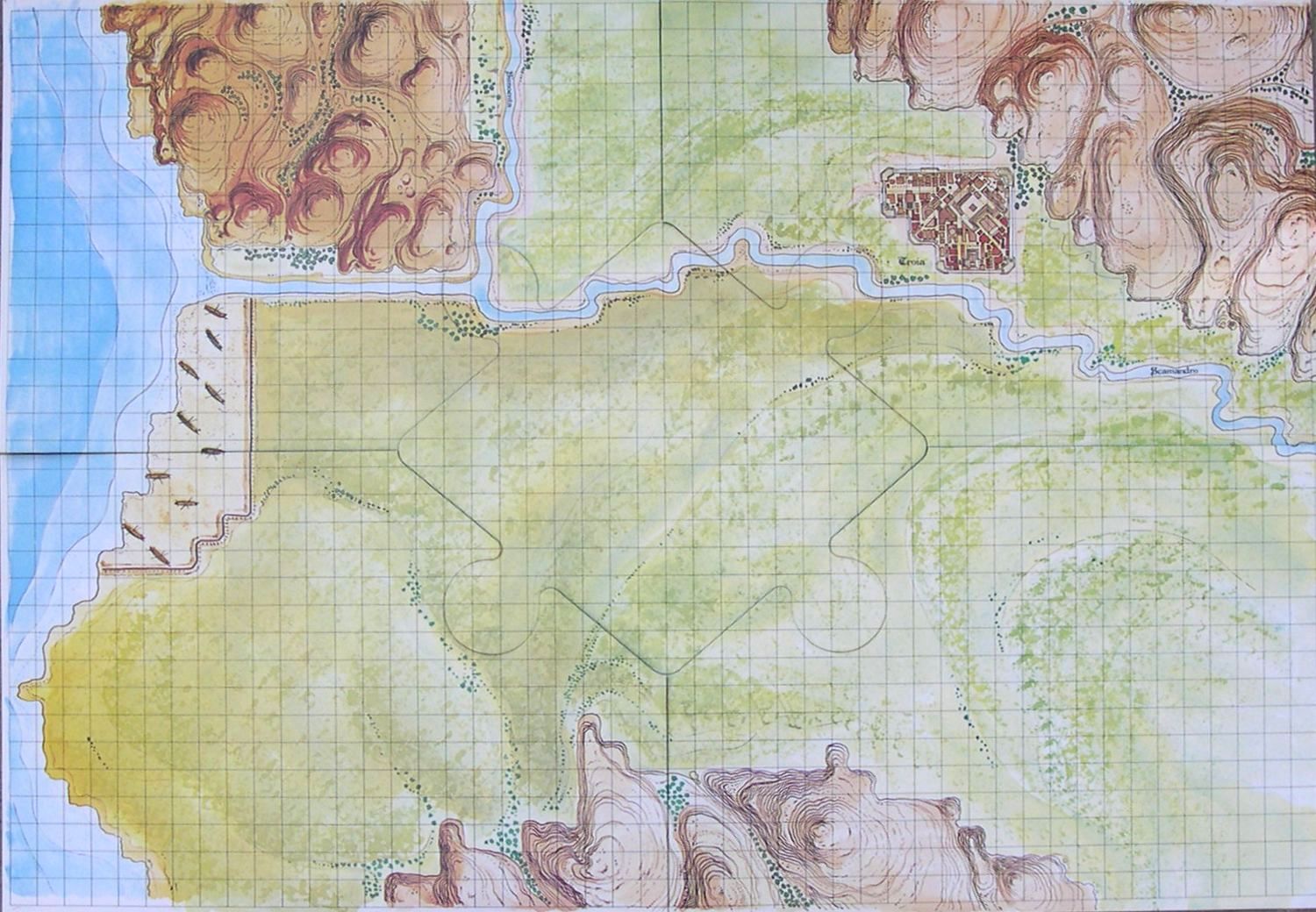 The counters

The game includes 28 Greek counters in blue and 23 Trojan counters in orange. On each counter is indicated the name of the personage, his city and a numerical value between 1 and 9 (or A for the archers).
Thanks to Benoit :-), here you have a copy to help you to rebuild missing counters.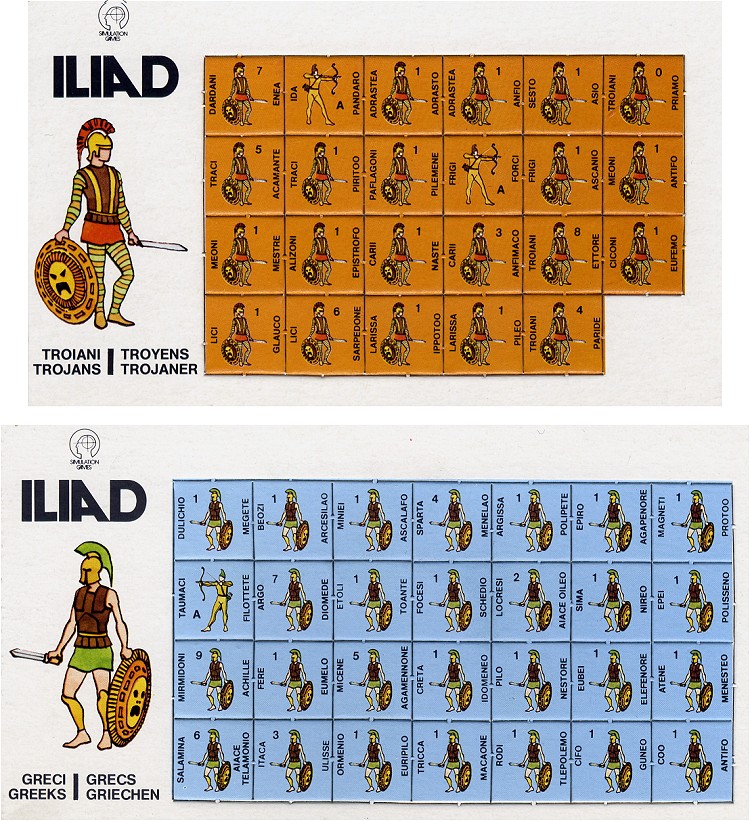 The rules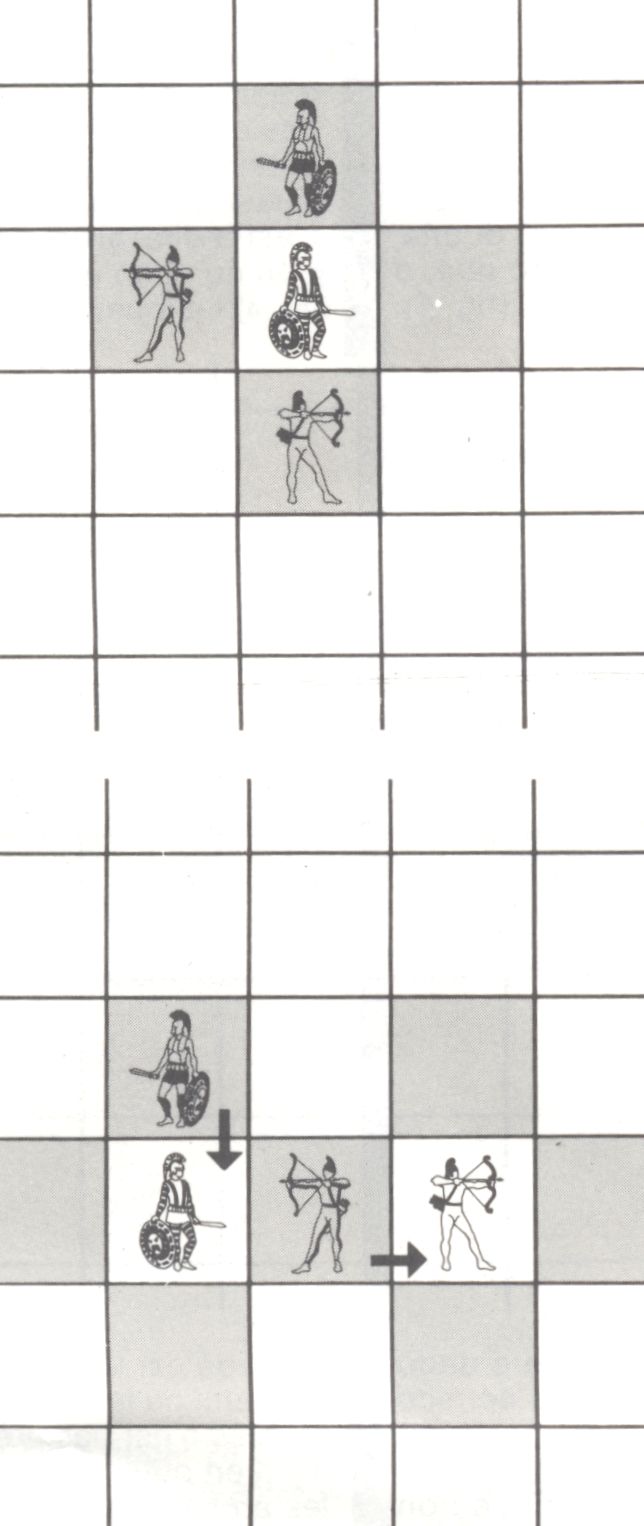 The rulebook is made of 10 pages in 4 languages (Italian, English, German, French).

The object of the game is
- for the Greeks to occupy Troy with 5 heroes,
- for the Trojans to occupy the Greek camp with 5 heroes.

The calendar includes several events: duels, some hours with a Greek or Trojan advantage. The greek fortification wall is build the 3rd hour of the 2nd day. After the 2nd night, the Thracian units are eliminated. Achille started only after the 4th day. In the end of each day, every counters comes back to its camp.
In the plain, each counter can move along 10 squares, except counters with a value of 1, who can move only 6 squares. The rivers and walls force the counter to stop.
The heroes with a value upper to 1 are fighting using the duel rule, throwing one after the other 3 time the die each. The result is given by the die difference + the counter value difference.



A wounded hero continue with a die divided by 2.
Between counters with a 1 value, the result is achieved after the first dice duel. The loser is eliminated. The archers are attacking at a distance of 3 square maximum. They kill on a 6 and wound on 5. The archer attacks are made before the other combats.
Several counters can be grouped for a combat. They add their individual value.

Some price (2004-2006):


| | | | | |
| --- | --- | --- | --- | --- |
| N░ EBAY | Price EBAY | Country | Date | Remarks |
| 5903898978 | EUR 86 | France | 22 Jun 2004 | |
| 5923398681 | US$ 56 | USA | 02 oct 2004 | NEW |
| 5936823090 | EUR 51 | France | 28 Nov 2004 | |
| 5939097117 | EUR 58 | France | 04 Dec 2004 | |
| 5951491136 | EUR 54,50 | Germany | 30 Jan 2005 | |
| 5954549676 | EUR 41,50 | France | 10 Feb 2005 | |
| 5170464604 | EUR 40,50 | France | 6 Mar 2005 | |
| 5195092142 | EUR 41,50 | France | 18 Mai 2005 | |
| 5208753999 | EUR 35,50 | Germany | 21 June 2005 | |
| 5224384519 | EUR 60 | France | 7 August 2005 | not sold |
| 5233784528 | $ 72 | Italy | 2 sept 2005 | |
| 5236452574 | EUR 50 | France | 8 sept 2005 | |
| 5236452574 | $ 51 | USA | 16 sept 2005 | |
| 52918034404 | $ 92 | USA | 2 oct 2005 | unpunched |
| 5291864501 | $ 75 | USA | 2 oct 2005 | unpunched |
| 8702885860 | EUR 9 | Italy | 14 oct 2005 | not sold |
| 8706572302 | $ 49 | USA | 15 oct 2005 | |
| 8721743118 | $ 37 | USA | 15 nov 2005 | unpunched |
| 6012439142 | EUR 71 | France | 165 nov 2005 | unpunched |
| 8724124257 | $ 56 | USA | 22 nov 2005 | |
| 6015728593 | EUR 26,50 | France | 2 dec 2005 | |
| 8735391239 | EUR 50,49 | Italy | 15 dec 2005 | |
| 8749260614 | EUR 36,50 | France | 19 Jan 2006 | |
| 8761116575 | EUR 32 | France | 10 feb 2006 | |
| 8756047510 | AU $ 25 | Australia | 31 jan 2006 | |
| 6040845128 | EUR 35 | Spain | 10 mar 2006 | |
| 6044541361 | EUR 41,50 | France | 26 mar 2006 | unpunched |
| 8782560134 | $ 53 | USA | 26 mar 2006 | |
| 8803404079 | EUR 26,49 | Italy | 5 may 2006 | |

The ILIAD overview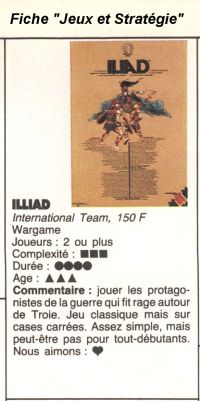 reference: W104
A game for 2 players from 13 years on.
Time of game: from 2 to 3 hours
Level of difficulty: 1 (very easy)
Date: 1979
Authors: International Team


Links:

Iliad in la caverne
Iliad in boardgamegeek
Iliad in Mark Boone's site
Iliad in "la Tana dei Goblin (italien)". The game has simple rules. the heroes are equilibrated. Playing mythic Greek heroes is pleasant. But a good strategy do not always means a victory. This is not a realistic simulation of antic combats. The game is more like a chess game, with more parts and less strategy.


The game "ILIAD - The siege of Troy"was published in 1978 by GDW (Game Designer Workshop). This game looks very similar to the International team one.
"The game Iliad - The siege of Troy" on boardgamegeek
The game review on boardgamegeek .You allmost could use this game review for the International Team game.

Iliad and Odyssey in French/English with several beautiful images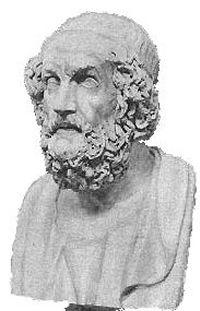 A book ?

Go to your favourite bookstore and buy two 3000 years old books: Iliad and Odyssey, written by Homere 9 century before Christ.

I am looking for

- a scan of the unpunched counters
- a copy of the article on Iliad from the magazine simulacrum 13 and Fire & Movement No.22 (Ancients anthology of games)