The game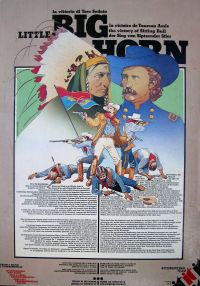 Little Big Horn is a game on this famous battle during which part of the 7th cavalry conducted by the General Custer was killed during an ambush by 2500 Indians warriors in 1876.

The Indian wars from that time were in fact mainly killing of Indians badly armed, women and children.

Sitting Bull who did organize the battle will later continue guerrilla during 13 years until the 29. December of 1890, when his tribe will be unarmed and killed by the cavalry in Wounded Knee. Geronimo will surrender in 1886. The Indians will obtain American citizenship in 1924.

This game will be later enhanced and pubslished by Eurogames.

The illustration

The illustration is signed by Ermes Miceli. Ermes also illustrated several "International Team" jigsaw puzzles.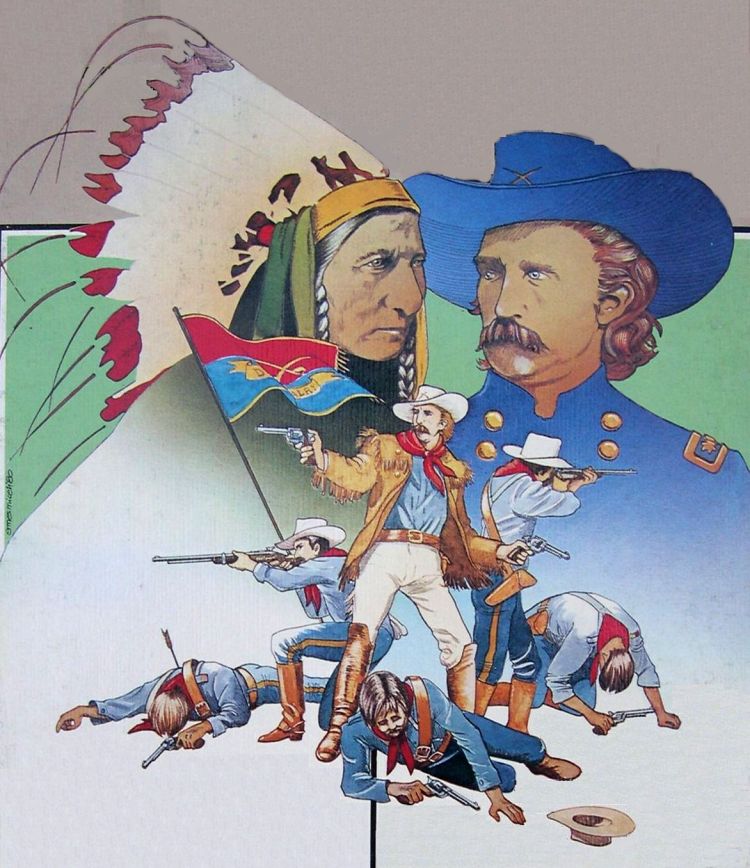 Opening of the box

The box contains the rules, the map elements, one die, the counters, 1 combat table sheet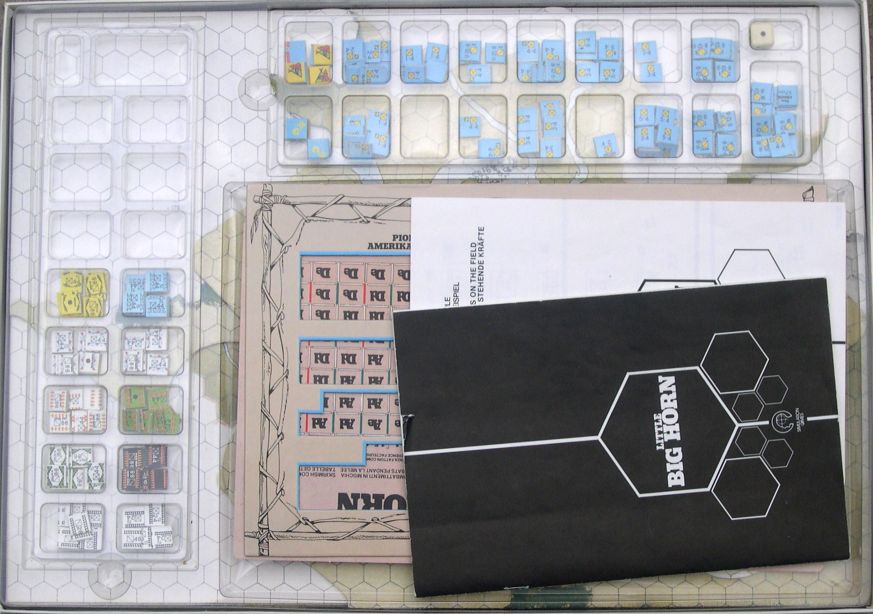 The map

The board is a map of the Little Big Horn river valley. Each hexagon corresponds to about 100 meters. It's a 3D map: above the main map is put or glued parts of secondary maps, representing mountain areas.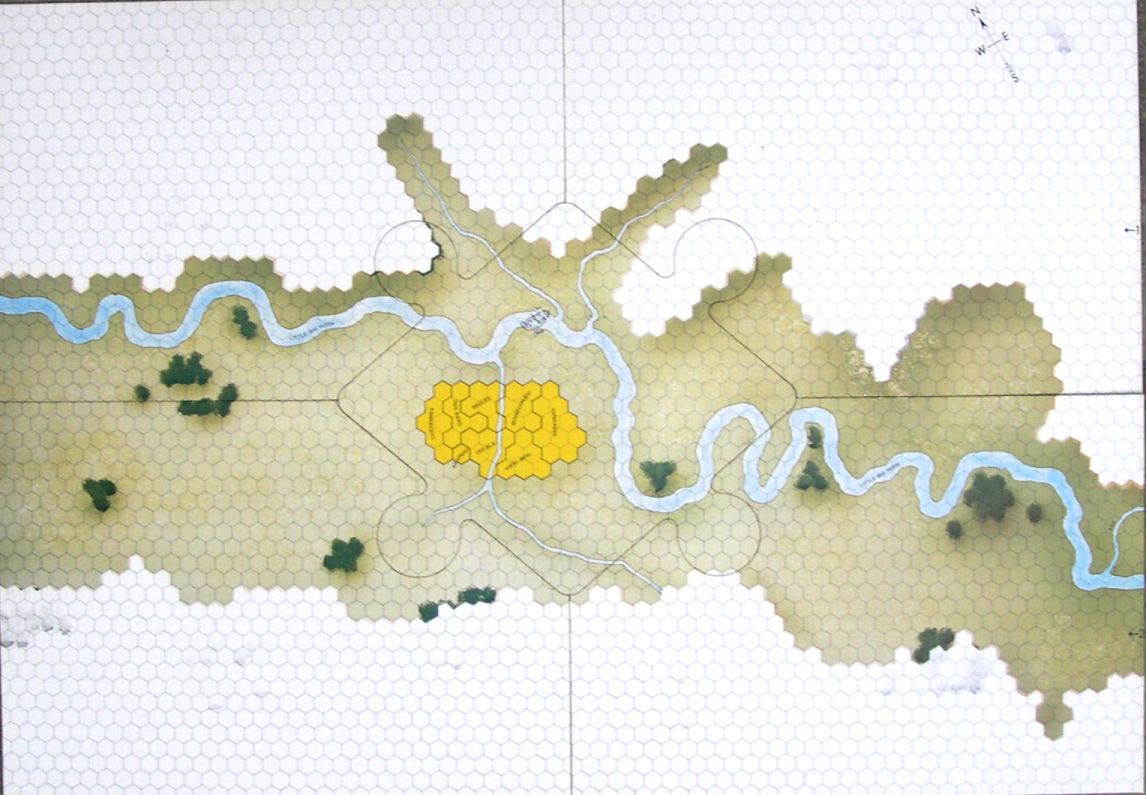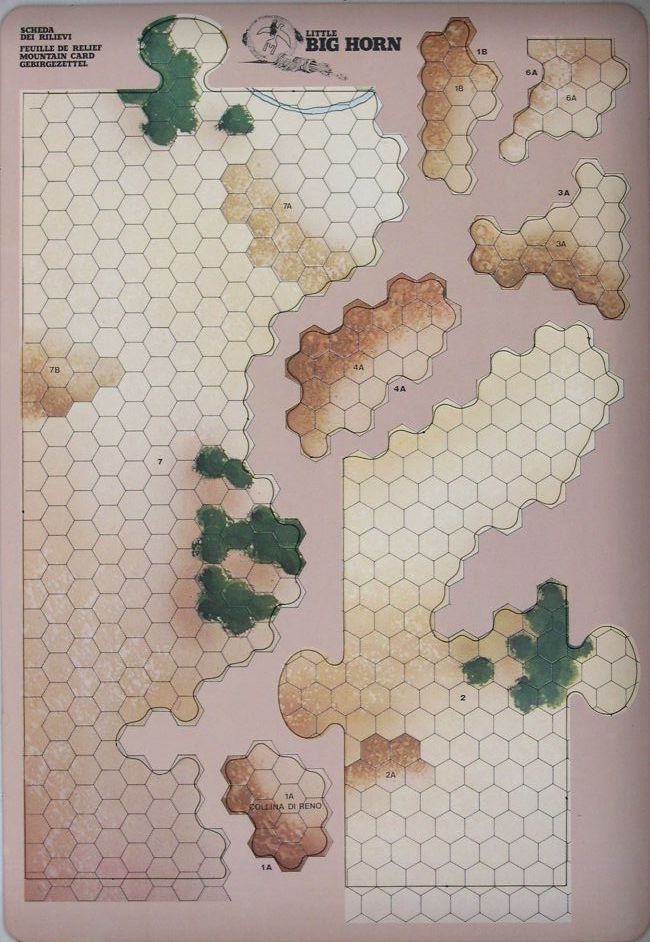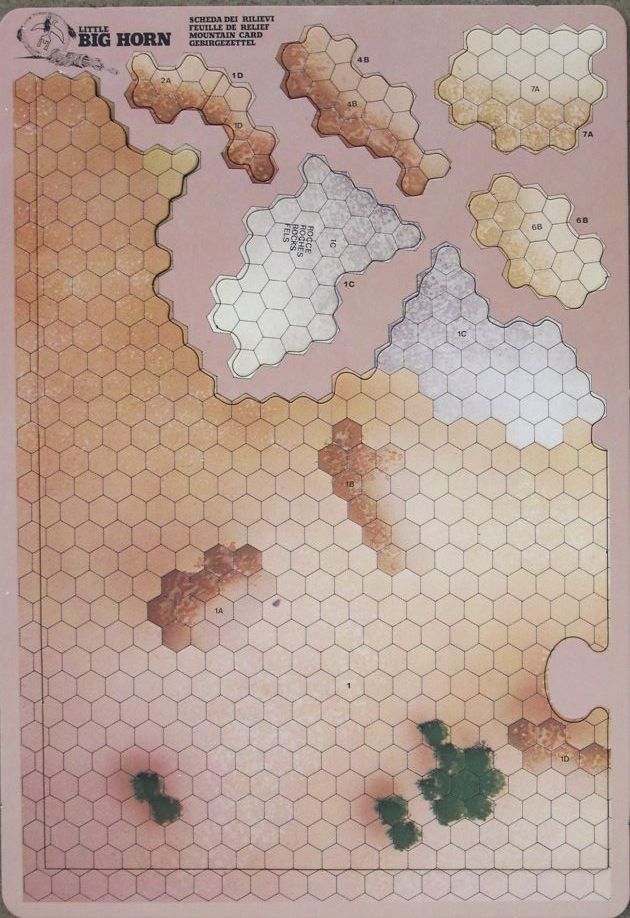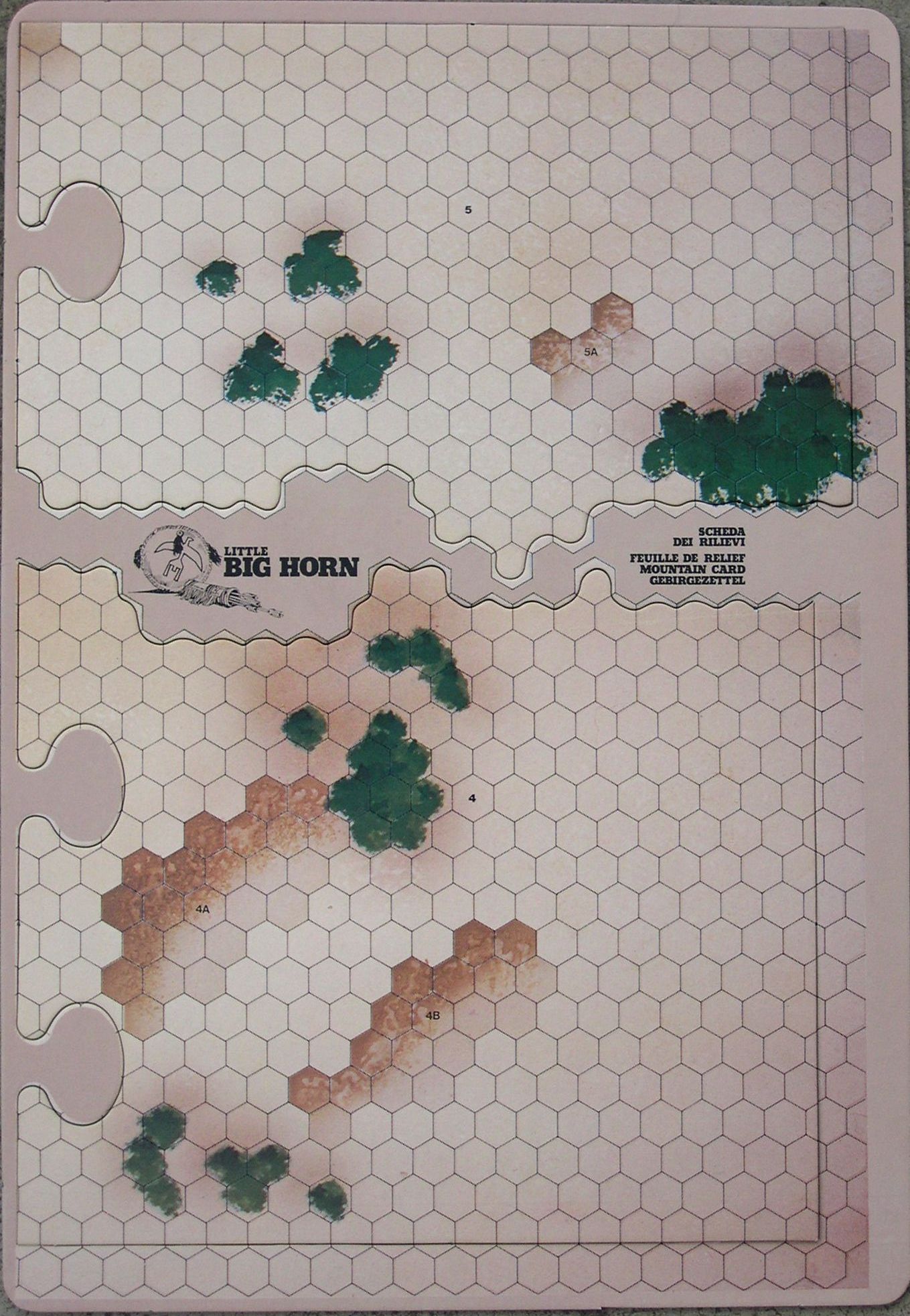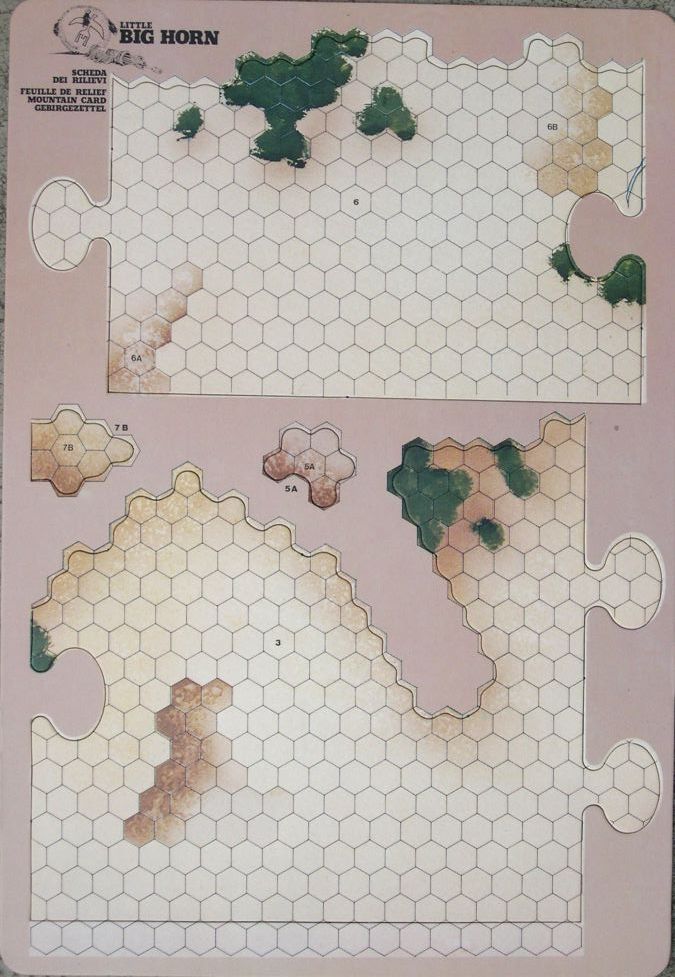 The counters

Each counter represents around 25 men of the US army or the Indian tribes. The US troops have also 2 Gatling's Sharpshooters (not easy to move but very efficient at less than a 4 squares distance). Each army also have "replacement counters" used to reduce accurately the defeated counters. For instance, a 8 valued counter may be reduced to 6 or 4 by being returned or replaced by one or several other counters.

Here is recto-verso scan of the 2 counter sheets (thank you Pedro !). Click on the picture to see an high resolution copy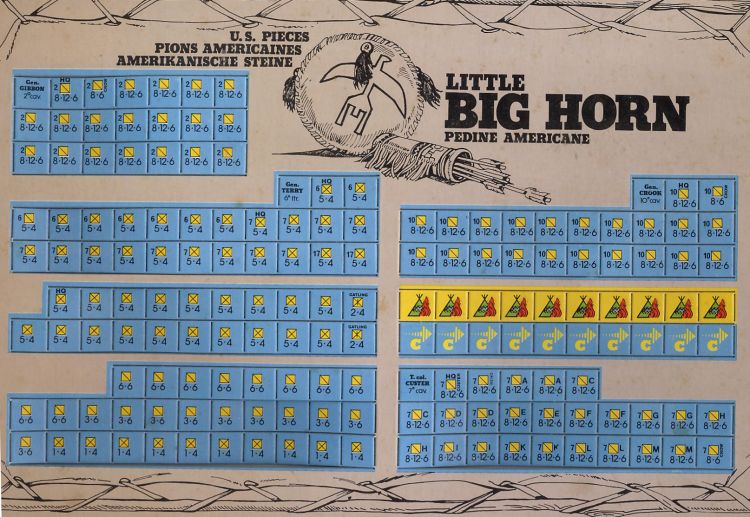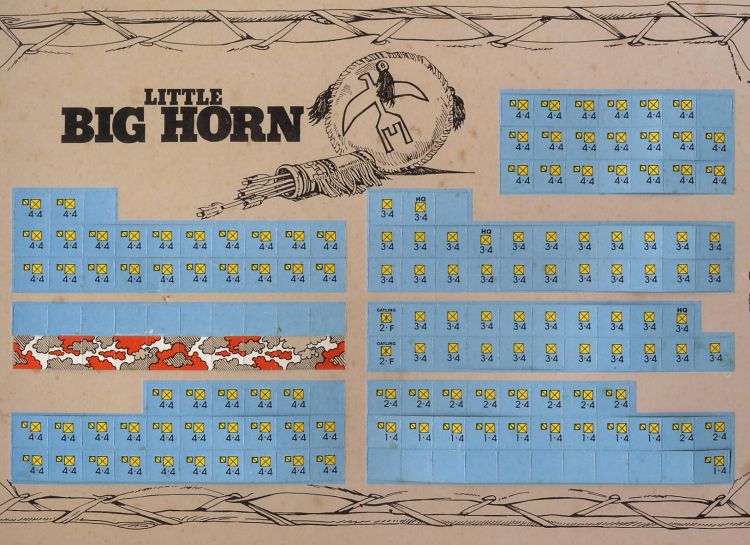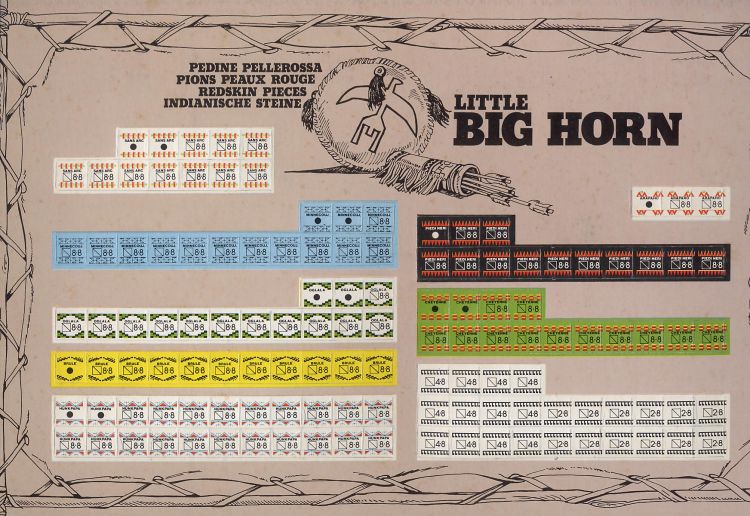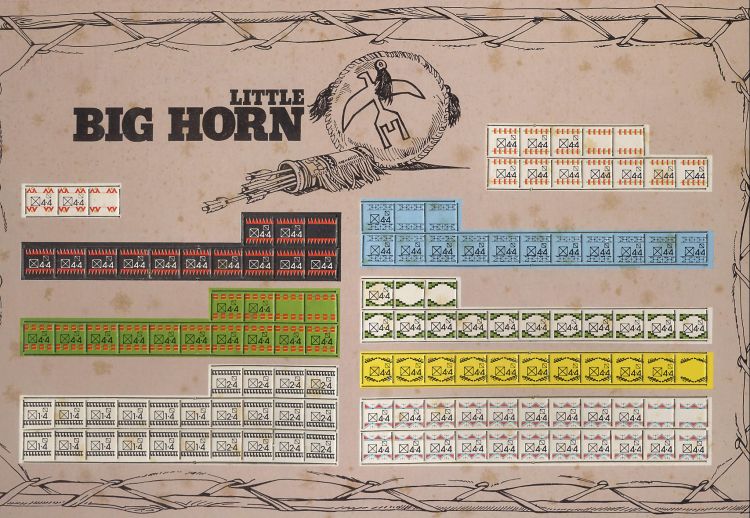 The rules

The rulebook contains 29 pages in 4 languages (Italian, English, German, French).
Each turn corresponds to about 8 minutes and is made of 11 phases:
- US army fire
- US army moves
- Placement of charge/smoke markers
- Indians opportunity fire
- US Army combat
- Indians fire
- Declaration and verification of Indians attacks
- Indians move
- Repositioning of smoke markers
- US Army opportunity fire
- Indians combat
In the case of contact combat, the Indians do not always fight if they are not with an Indian leader. The player has to throw a die for the 3 first Indians wishing to attack a single US counter. The first one attacks on 4 5 6, the second on 3 4 5 6, the third on 2 3 4 5 6 and the following always attack. Indian leader are used to avoid these tests and to avoid retreats.
A unit of half value will never attack a unit of superior value.
The gatling units have their movement points indicated on one side. They can only move when this face is visible. Reversing the counter to be able to fire is considered as a moving phase. These sharpshooters may fire at a distance of 4 hexagons.
The game includes 3 scenarios:
- The 7th of cavalry against all the redskins in 16 turns.
- All the US troops (except the 10th of Cavalry) join on the map
- Attacks from 3 sides (2nd, 6th and 10th of Cavalry)

Some price (2004-2006):


| | | | | |
| --- | --- | --- | --- | --- |
| N° EBAY | Price EBAY | Country | Date | Remarks |
| 5926148001 | EUR 30,50 | France | 18 oct 2004 | |
| 5929320080 | EUR 22,89 | Germany | 30 oct 2004 | |
| 5936754388 | EUR 34,33 | Germany | 28 Nov 2004 | |
| 5950653593 | $ 224,50 | USA | 16 Jan 2005 | unpunched |
| 5951022979 | EUR 80 | Italy | 28 Jan 2005 | Perfette condizioni nuovo |
| 5953053131 | EUR 34,57 | Germany | 6 fev 2005 | |
| 5953621610 | EUR 28,50 | Austria | 9 Fev 2005 | |
| 5955009334 | EUR 28,50 | France | 15 Fev 2005 | |
| 5172030617< | EUR 21,51 | France | 11 Mar 2005 | |
| 5184109532< | EUR 20 | France | 8 apr 2005 | |
| 5181042329 | £ 20 | UK | 9 apr 2005 | |
| 5194188275 | EUR 18,50 | France | 10 mai 2005 | |
| 5975957505 | EUR 9,50 | France | 19 may 2005 | |
| 5978797999 | EUR 80 | Italy | 9 June 2005 | not sold |
| 5203888305 | $ 118 | USA | 11 June 2005 | |
| 5208437564 | EUR 16,58 | France | 20 June 2005 | pions non découpés |
| 52088489734 | EUR 9,99 | France | 21 June 2005 | |
| 5984806162 | EUR 50 | Italy | 10 July 2005 | not sold |
| 5233787008 | $ 85,51 | Italy | 2 septt 2005 | |
| 8702526045 | EUR 66,60 | France | 10 oct 2005 | |
| 6007387484 | EUR 50 | Spain | 30 oct 2005 | |
| 8714507975 | EUR 60 | Italy | 5 nov 2005 | |
| 8718104635 | EUR 45 | Italy | 10 nov 2005 | |
| 87388217775 | $ 63,50 | USA | 19 dec 2005 | |
| 8745590660 | EUR 25,50 | France | 8 jan 2006 | |
| 8753512568 | EUR 6,10 | France | 25 Jan 2006 | uncomplete, damaged |
| 8778172467 | EUR 7,58 | France | 19 mar 2006 | no manual |
| 8799259904 | EUR 30 | Italy | 30 apr 2006 | not sold |
| 8800782419 | £ 9,99 | UK | 30 apr 2006 | not sold |
| 8812741838 | EUR 30 | Italy | 26 may 2006 | |
| 8820359170 | EUR 26 | Germany | 6 june 2006 | |
| 8822776268 | EUR 20 | Italy | 10 june 2006 | |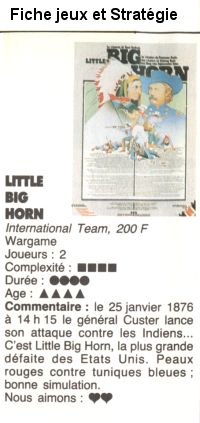 LITTLE BIG HORN overview

reference: W115
game for 2 players from 15 years on
Time of game: 4-8 hours
Time of each turn scale: 8 minutes
Difficulty: 3 (average)
Date: 1981 ?
Authors: International Team

The Eurogames release:

The Eurogames release (here in French) modifies greatly the game (smaller map, less counters, less scenarios etc) to make the game faster.
An Article (in french) was published in Casus Belli about the Eurogames release

Links:

Little Big Horn on Tric-Trac
Little Big Horn on Boardgamegeek
La battaglia del Little Big Horn di Gino Rinalducci
Little Big Horn review by Cremona Luca sur grognard.com

A book ?

"Geronimo: His Own Story" par SM Bannett and Geronimo
"Bury My Heart at Wounded Knee: An Indian History of the American West" by Dee Brown, the very well documented book that makes reference on this subject